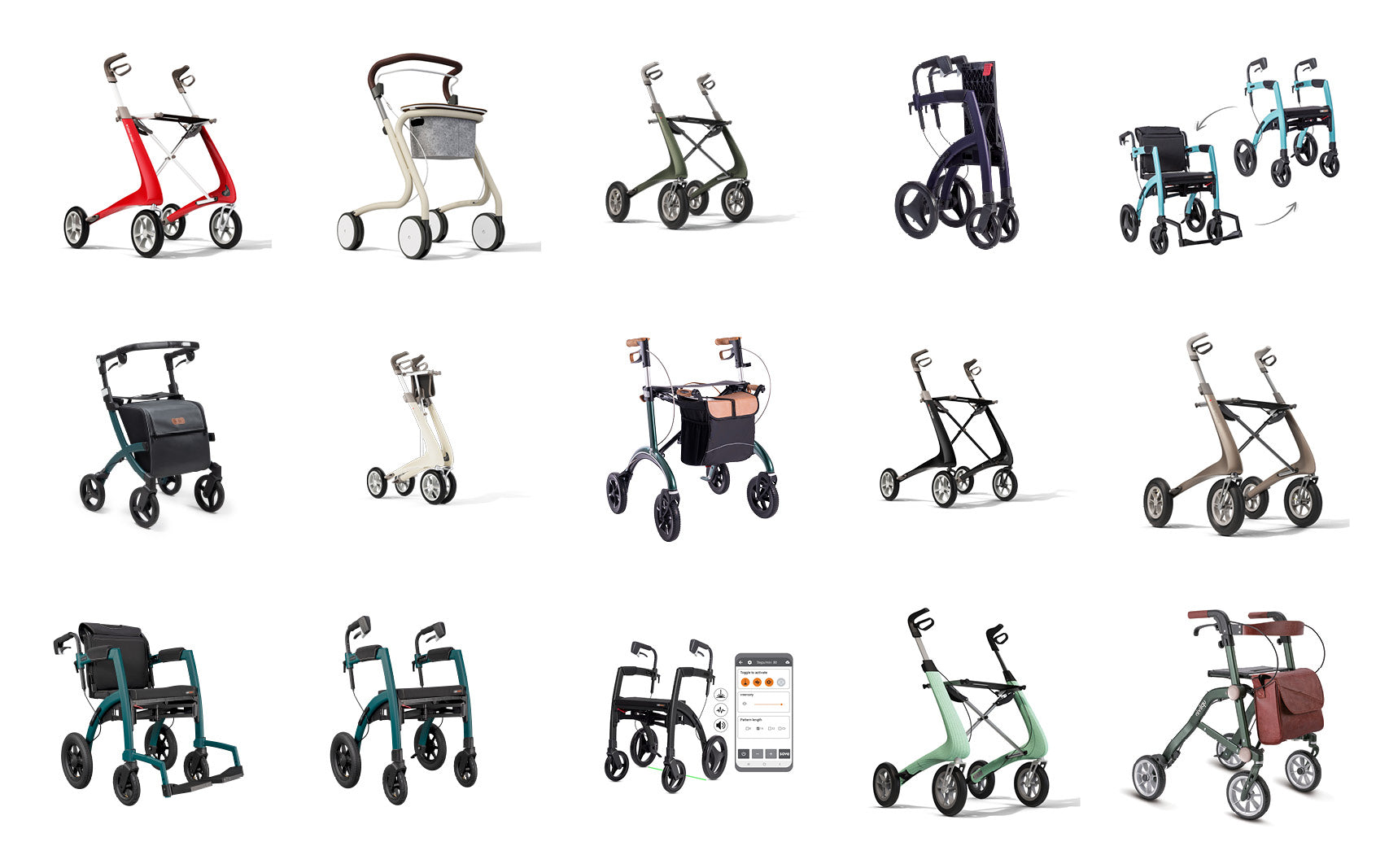 WHICH WALKER IS RIGHT FOR YOU?
Just like humans, walkers come in different widths, lengths, heights and weights, so it's important to choose one that will suit you. If you are considering buying a walking frame, here are some handy questions and answers to help you guide you to the right choice...
WHAT'S THE DIFFERENCE BETWEEN A 'WALKING FRAME', A 'ROLLATOR' AND A 'WALKER'?
Technically, a 'walker' and a 'rollator' are different: frames with wheels are 'rollators', and a frame without wheels is a 'walker or 'walking frame'. But, in Australia, we're a bit more relaxed and generally use the terms interchangeably. We only sell rollators - or walkers with wheels! Before buying a rollator (walker), you'll want to consider the following questions questions: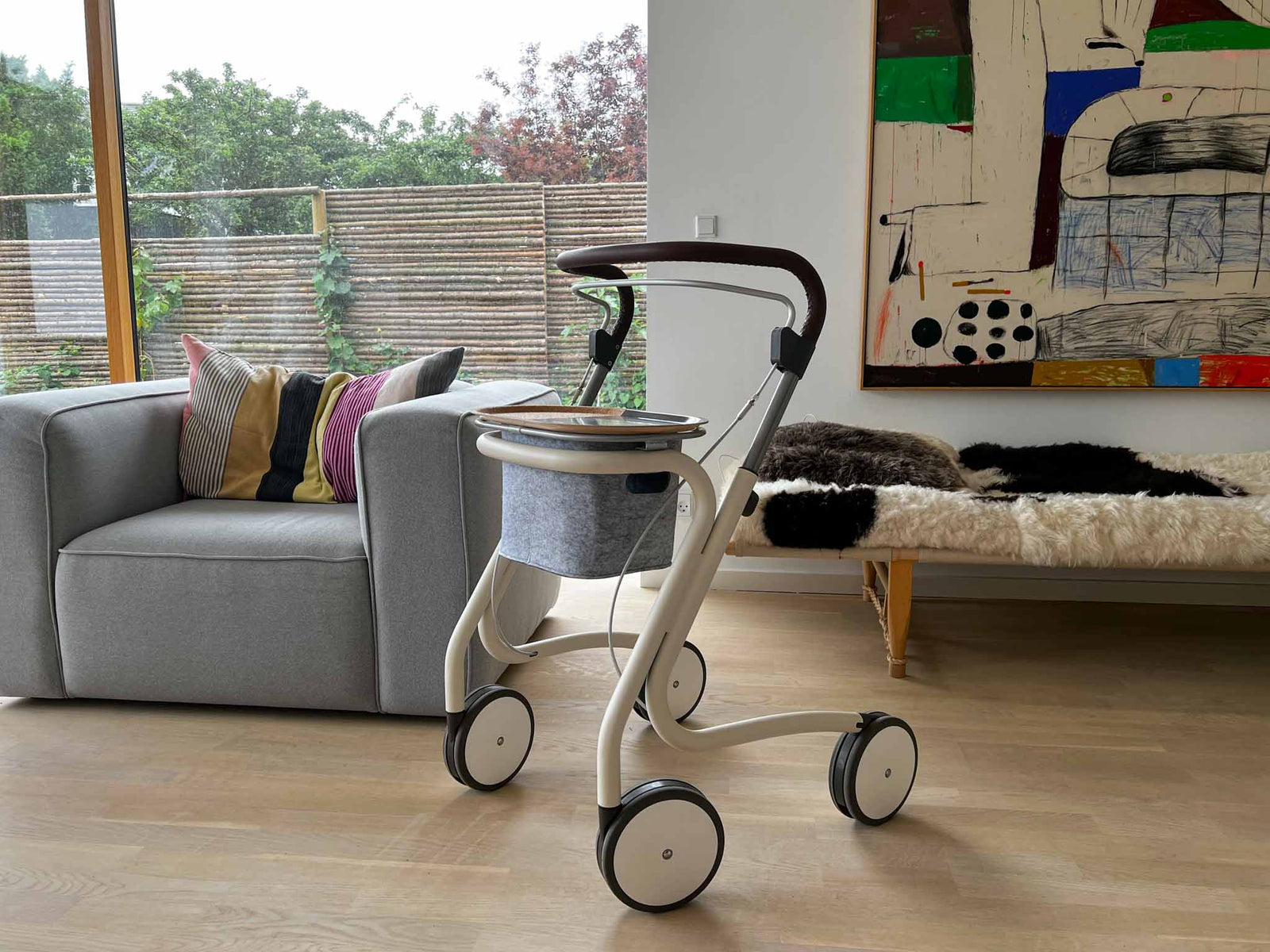 WILL YOU BE USING THE WALKER INSIDE OR OUTSIDE, OR BOTH?
Indoor
An indoor walker needs a tighter turning circle. Generally speaking, the closer together the front wheels and back wheels, the tighter the circle. If the front wheels swivel on bearings this should also assist.
Another thing to consider with an indoor walker is wheel type. In most cases, castor wheels or solid wheels are better indoors because tyres with tread or air-filled tyres can squeak or stick on the floor.
Do you need a tray? Some walkers have tray accessories, great for carrying your coffee, phone or whatever else you need handy (like nunchucks) - just don't overload them. Rollz have a great tray accessory for their walkers.
We do have an award-winning walker that is designed especially for indoors - the byACRE Scandinavian Butler - which is ideal for getting close to countertops, carrying things, and using for balance everywhere including the bedroom and bathroom. In most case, people who own a Scandinavian Butler will also own another byACRE walker for outside (like the Overland or Ultralight).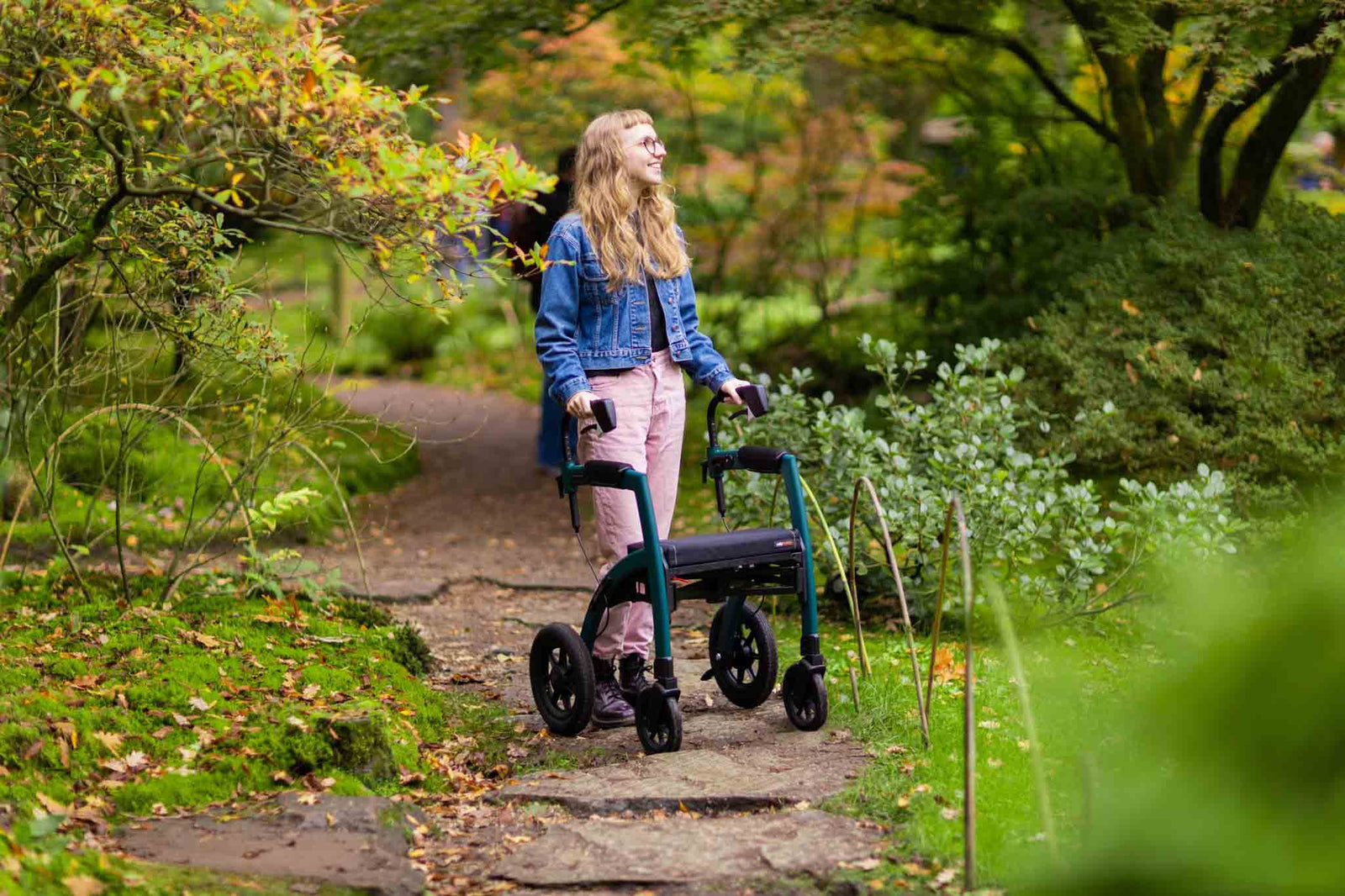 Outdoor
An outdoor walker has to deal with different terrains. If you're using more on flat surfaces, smooth footpaths and around the mall, then most of our walkers will be ideal for that.
If you're going over mixed terrain, like outside over cobble stones, garden pathways, fields, then larger tyres are a good option. These help up roll better over the bumps and cracks.
Outdoor walkers should also be easy to fold so you can store it in the car, bus, train or plane. If your using it in wet conditions, think about the brakes - for example, the Rollz Motions use drum brakes which are excellent in wet conditions.
We have some fantastic outdoor options including the byACRE Carbon Overland, the Saljol Aluminium and , the Rollz Performance 2-in-1 Walker Wheelchair, all with larger wheels and cushioning.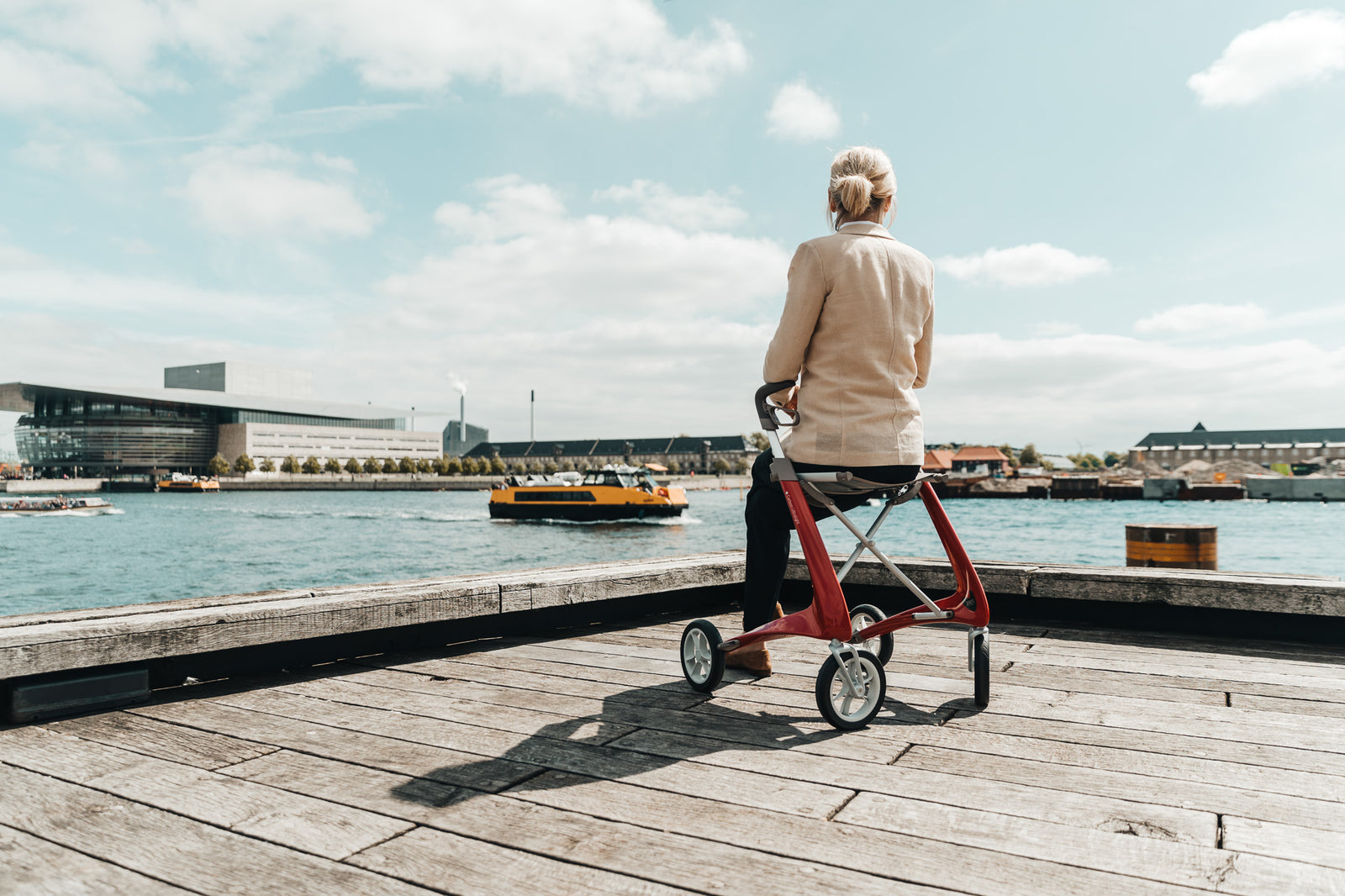 DO YOU WANT A SEAT?
Most people will want a walker with a seat so they can take a breather if they need a rest. Nearly all of our walkers/rollators have a seat. In some cases, the seats are solid with lots of padding and in others they are canvas. This is often the 'trade-off' for certain other features with the walker. For example, when designing the byACRE Carbon Ultralight, byACRE's designers wanted to create the lightest walker in the world. They managed to do this by taking some of the weight out of the seat by not have a solid base or extra padding. It means that the byACRE Carbon Ultralight is unbeatable in terms of its ability to fold and lift (just 4.8kg). But if you really need a comfortable seat for sitting for long periods of time, it might not be right for you. An alternative is the Rollz Motion with its solid seat and a back (when converted to a wheelchair). It has a soft cushion and adjustable lumbar support. This makes it an excellent choice for people who want to walk but then roll when they feel tired, so they can convert it into a wheelchair and then be transported while sitting comfortably.
WHAT MEASUREMENTS ARE IMPORTANT?
When comparing any walker, you'll want to take note of the seat height, seat width, handle height and user weight limit:
Seat height
This comes down to personal preference. In some cases people want to have their feet flat on the ground when they are sitting. O like to be a little higher to assist with the dismount. If this is your first walker, find the measurement of the height of a seat at home and use that as a yardstick to compare with the seat heights on the walkers you are looking at.
Seat width
This comes down to your hip width. Generally speaking blokes and pear-shaped ladies need a wider walker. Also, check the weight limit - all walkers are designed to carry up to a certain weight. It's always a good idea to check what that is.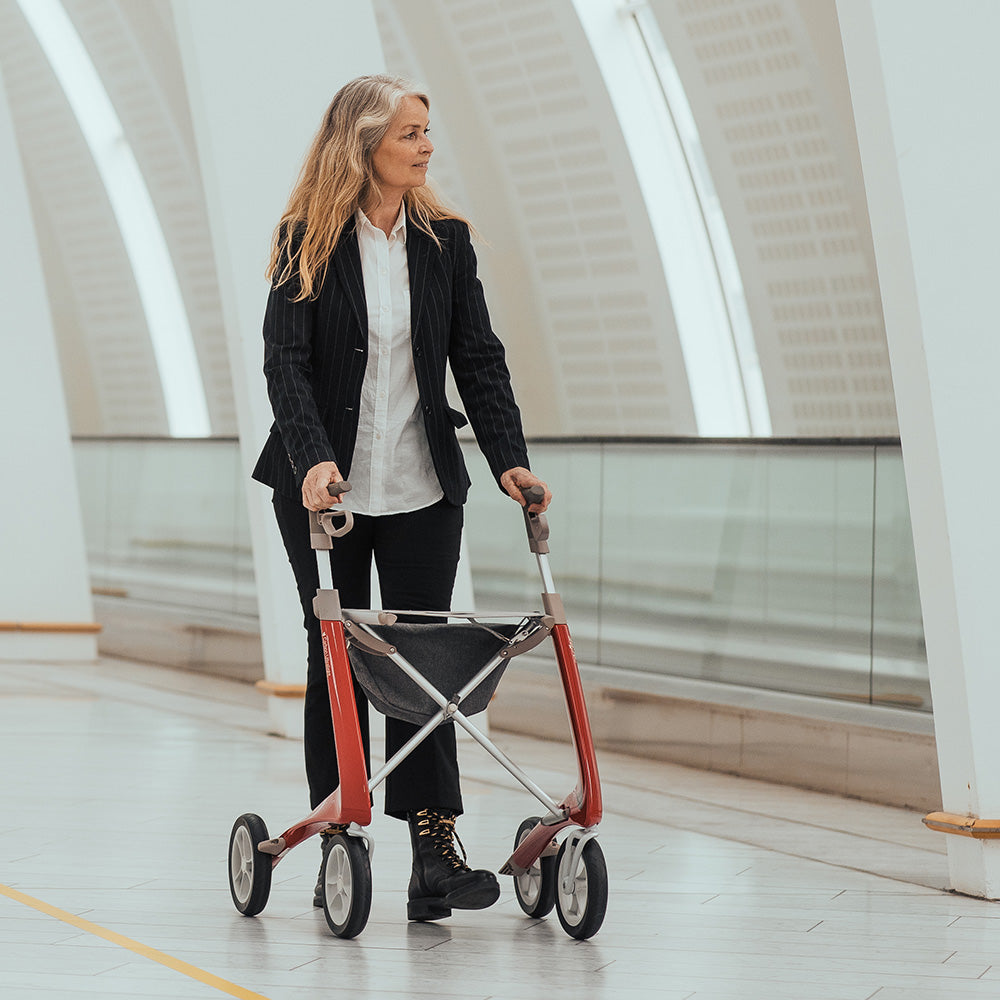 Handle height
Most walkers have height-adjustable handles. All of Locomo's walkers do.
As a general rule, the handle should sit at roughly the same height as your wrist when you are standing tall and have your arms resting by your sides.
The handles are easily adjusted for height on all of Locomo's walkers. As a guide, the Rollz Motion Regular is 87-98cm range and the Rollz Motion Small is 82-94cm.
Rollz recommends the Small for people who are 1.5m to 1.85m tall. And they recommend the Rollz Motion Regular for people 1.6m-1.9m. You'll see there's a crossover here - if you're in between the two heights, you could have either - then you might want to see what seat height suits you best (50cm on the Small and 55cm high on the Regular).
If you want to look at the byACRE products, they also have handle heights: 79-91 cm (Compact Track), 80-95 cm (Regular, Wide Track and Overland).
All the measurements are on each product's page, listed under 'Specifications'.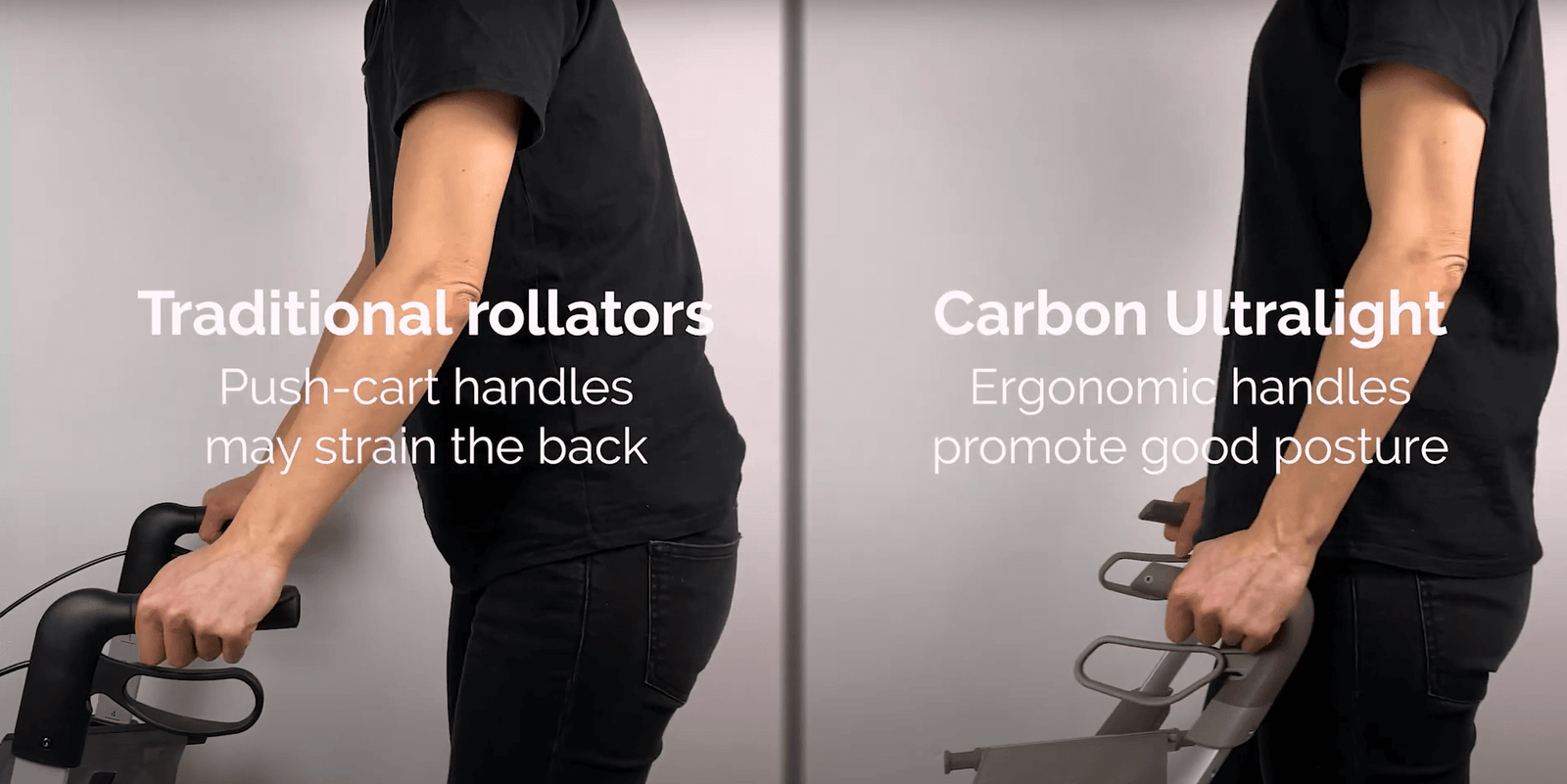 Inverted handles also help you walk tall
Ergonomic Inverted Handles (forward facing handles) will have you standing closer to the centre of the walker and therefore taller, so you won't need to hunch forward like you do with traditional-styled cart handles (handles that stick out the back). You'll walk taller as a result.
Inverted handles make it much easier to turn and steer a rollator. Many people find find steering far easier with inverted handles, without the added strain on your wrists, finders and hand joints that can come from the more traditional push-cart handles.


WHAT SHAPE ARE THE HANDLES AND ARE THEY COMFORTABLE?
GRIP
As a starting point - you will want something that feels nice to grip. If it's just solid plastic, this may feel uncomfortable after a while. All our walkers either have foam or a type of rubber/latex or cork TPE covering on the handles, which make them soft to touch and offers some cushioning suspension.
ERGONOMICS
In addition to touch, it's also a good idea to consider whether the handle is ergonomically designed - does it feel nice to hold? byACRE have priortised this on their Ultralight and Overland walkers. Saljol's walkers have a Cork TPE and nice ergonomic feel too.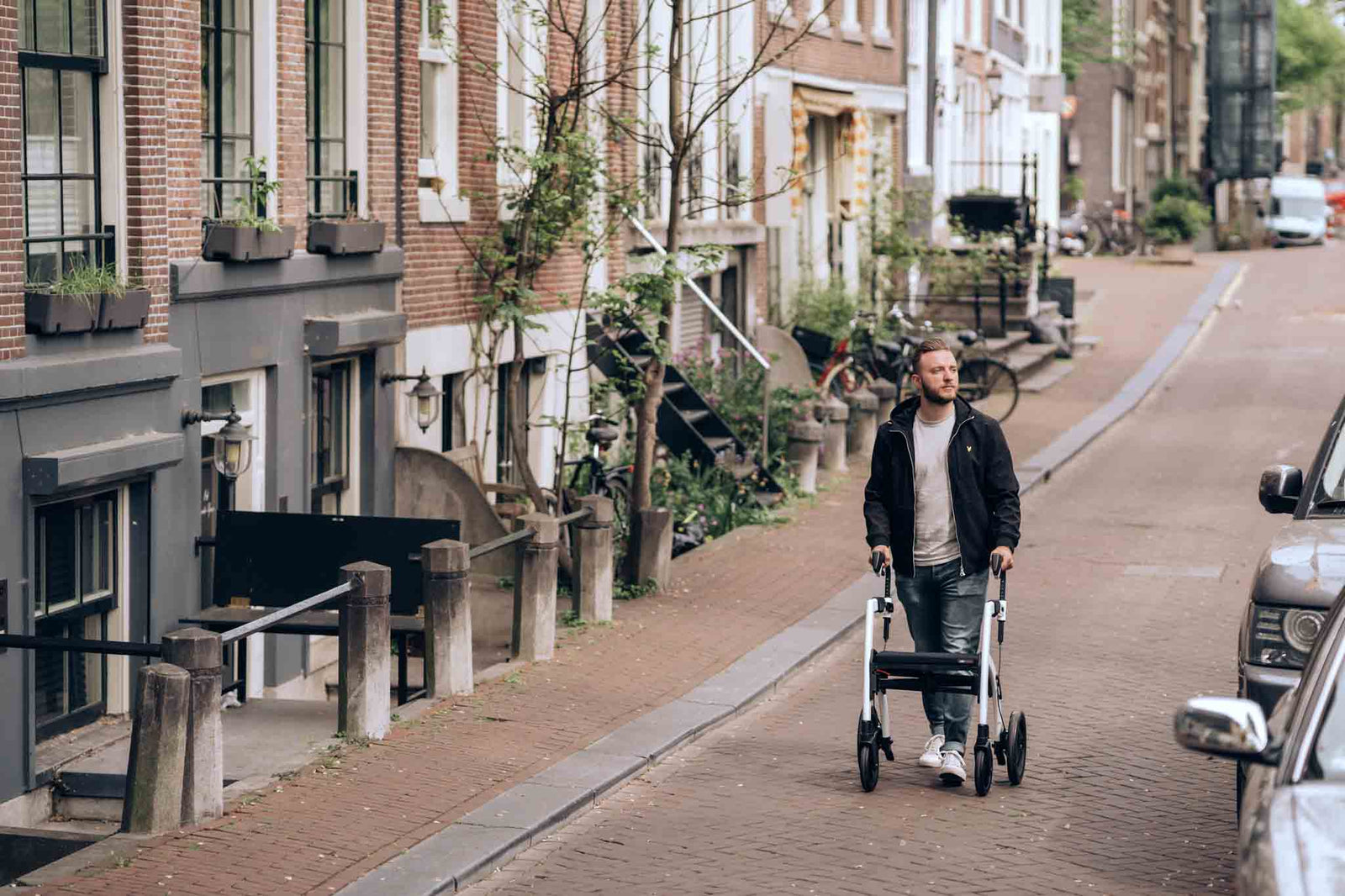 SHAPE
There are three types of handle shape - bar handle, traditional 'cart' handles and inverted handles:
A Bar Handle is one handlebar that goes in a 'U' shape from one side of the walker to the other. The Rollz Flex and Scandinavian Butler are examples of this.
Traditional Cart Handles face towards you, you'll have seen these on a traditional looking walking frame - the Uplivin Trive has these too.
Inverted Handles face away from you and have the benefit of making you walk more upright and closer to the frame. They also mean you steer the walker with the palm of your hand, without the added strain on your wrists and fingers. The Rollz Motion, Performance and Rhythm and the byACRE Carbon Ultralight and byACRE Carbon Overland all have inverted handles.
HOW EASY IS IT TO TRANSPORT AND OR STORE?
This can be split into three sub questions:
How easy is it to fold?
How easy is it to lift?
How easy is it to grip?
You'll also want to consider its folded dimensions, especially if you have a small car boot you or a small space in the house that you wish to store it in. Or, perhaps, you don't plan on using your walker out and about in which case its portability is less important.
Apart from the Scadinavian Butler, all of Locomo's other walkers are designed to fold easily so you can store them in the boot or tuck them away somewhere easily when travelling.
WHAT SORT OF TYRES DO I NEED?
There are three main types of tyre:
Solid plastic | Usually these have no 'give' in them at all. Touch them and you'll notice how hard they are, which can mean a bumpy ride without shock-absorption. That jarring can travel from the wheels, up the frame and into to your wrists and arms - so think about how much shock absorption you might want.
PU (Polyurethane) or Rubber composite | These are solid tyres, but can often incorporate some rubber or soft material such as foam to reduce vibration.
Air-filled or pneumatic tyres | These are tyres that you fill with air, just like a bike. They make for a more comfortable ride. However, like a bike, they may need checking occasionally to see if more air needs to be pumped into them.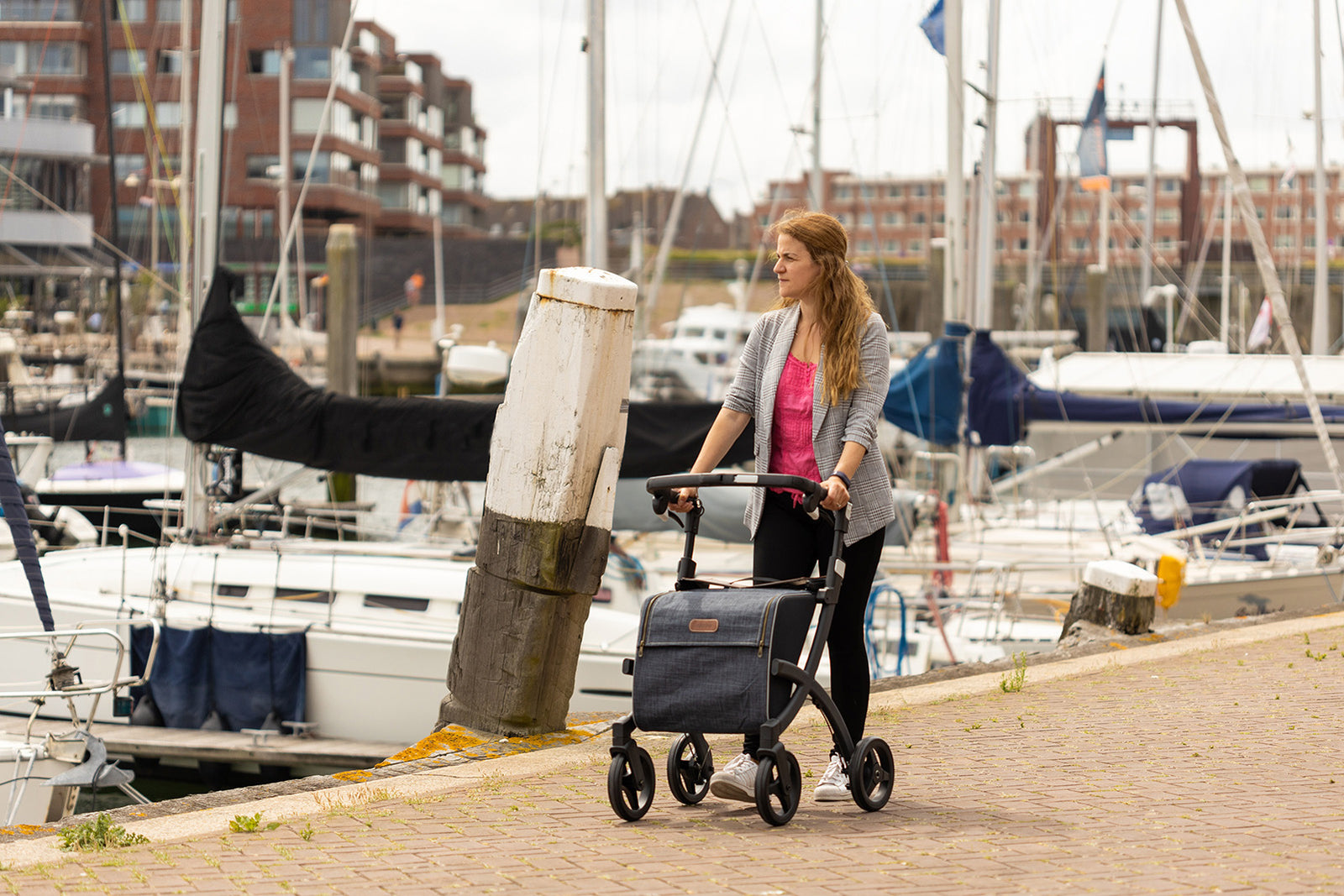 DO YOU WANT TO CARRY MUCH WITH YOU?
If you need to carry things like books, groceries or some shopping, then you'll want to attach a bag. Most walkers should have some sort of bag accessory and a good way to attach it. So check the accessory options that go with the walker, what sort of bag does it have?
The Rollz Flex is especially good for carrying things because the bag can carry up to 20kg, and it is located low and distributes weight centrally across all four wheels, which is great for stability.
byACRE have a great range of accessories with lots of different options, from small pocket bags to larger weekend bags.
Rollz have a basket option that goes under the seat, but also a Shopper bag that can sit higher on the frame.
All our other walkers have bags that you can attach too - most of these need to be bought in addition, as an accessory. Scroll down on each product's page and there is a section on the available accessories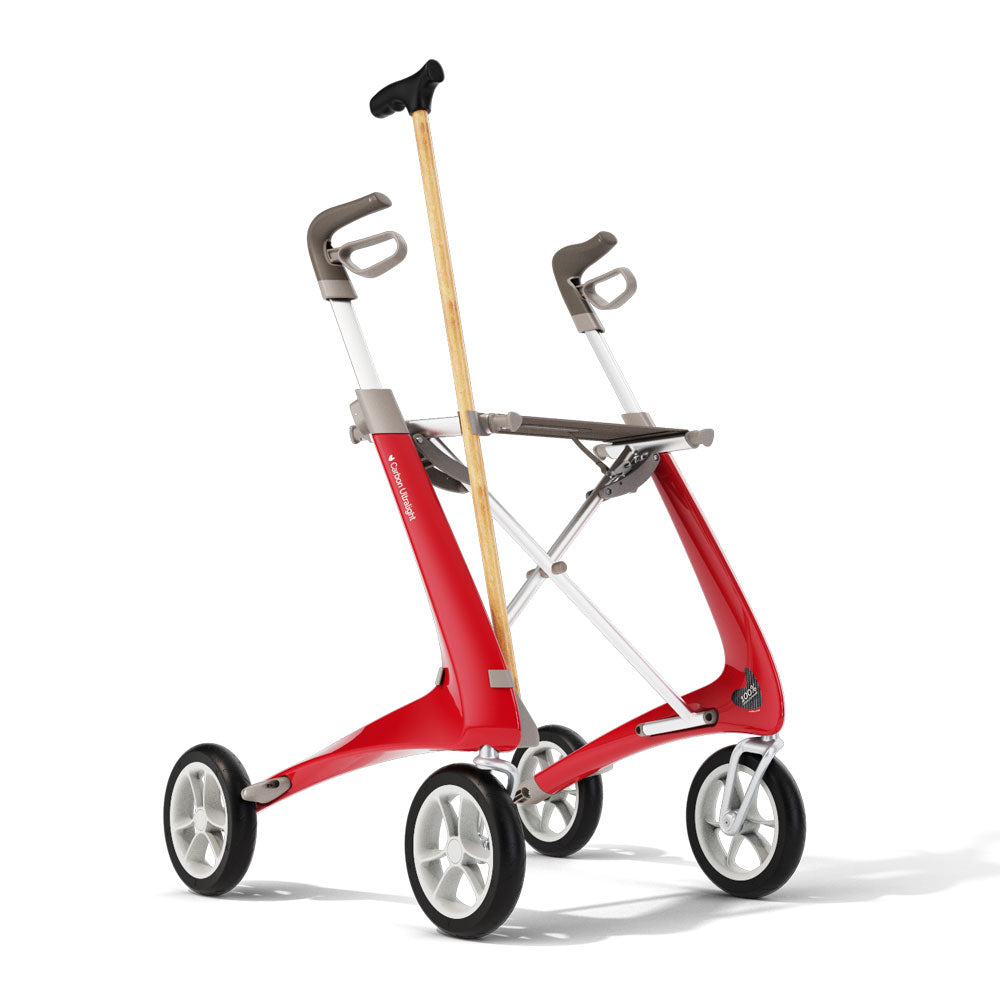 WHAT OTHER ACCESSORIES SHOULD I CONSIDER?
Apart from the bags and baskets (mentioned above), there are a number of accessories you might want like. Common ones are Travel Bags (to protect the walker when travelling) an umbrella, light and cane holder. Our brands cover most of these options for each of their walkers. Scroll down each product's page to where you'll see the accessories. Or go to our
accessories page.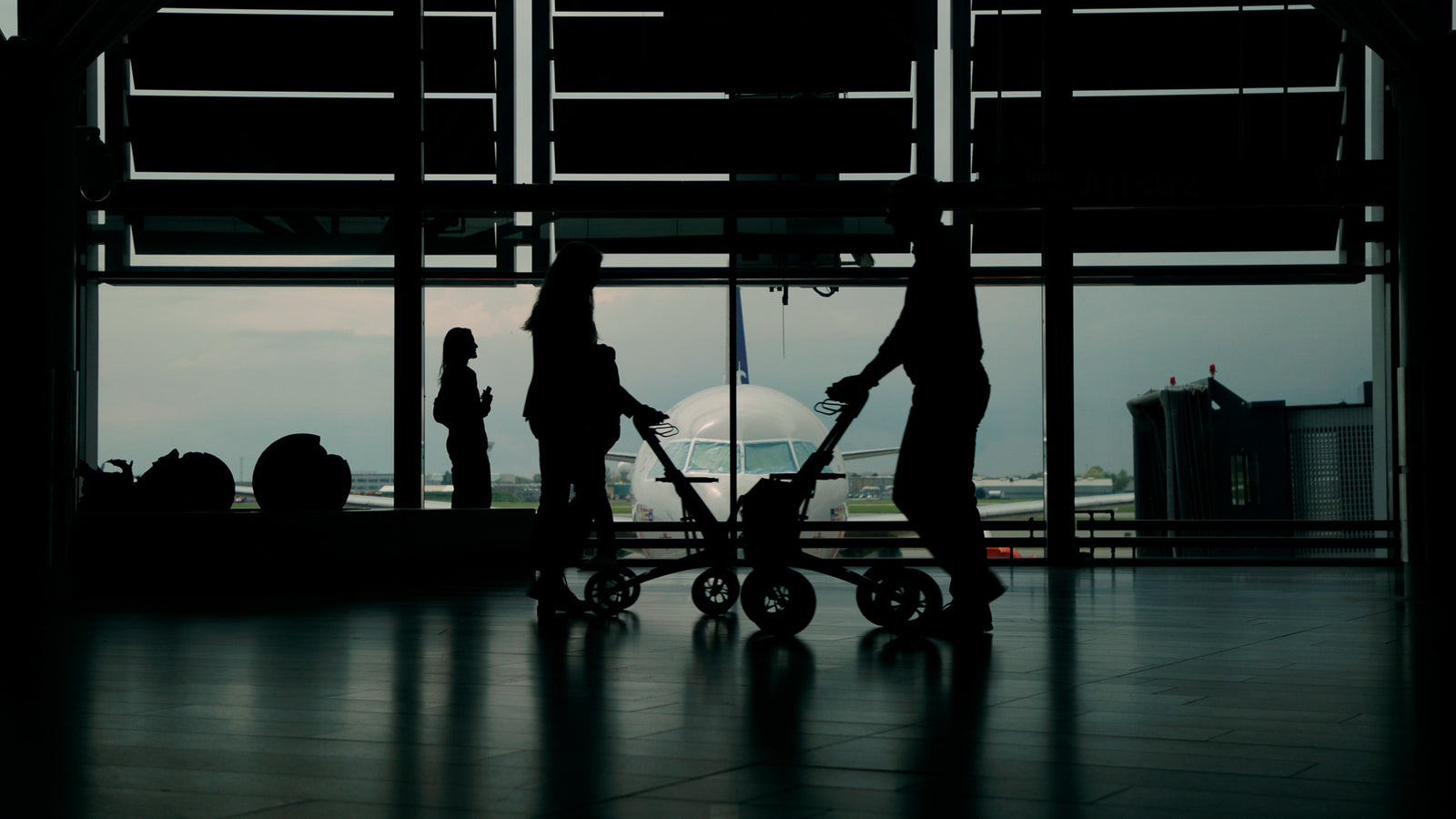 WILL YOU BE TRAVELING ON A PLANE WITH IT?
Some walkers come with a travel bag, which helps to protect the walker from scratches and bumps.
Of course there's no guarantees this will offer 100 percent protection, especially as some airline baggage handlers can be pretty rough! So think about how the walker folds and can be stored. Some people like to keep the box it comes in and be extra cautious with their walker by using the box again as added protection on flights.
Most airlines allow you to check-in mobility equipment for free without adding it to your luggage restrictions, but it's good to check with the airline.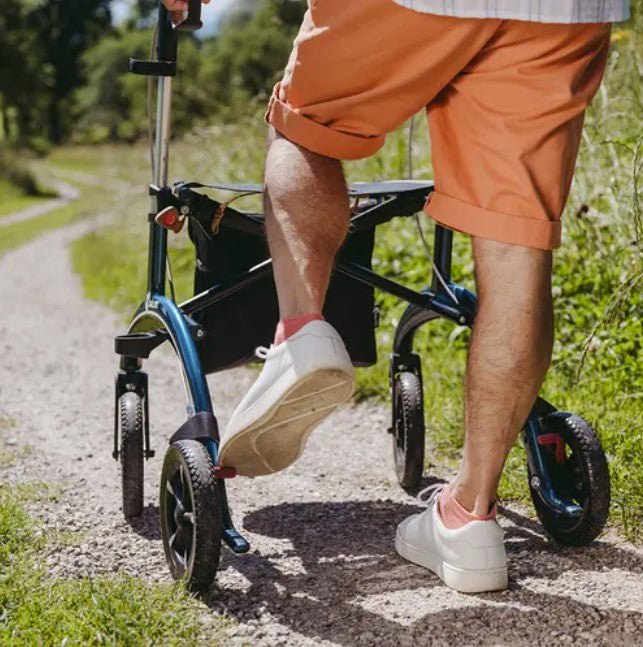 WHAT ARE GOOD BRAKES AND BRAKE CABLES?
Drum Brakes use a mechanism that expands inside a cylinder within the tyre. Many cars and trucks use drum brakes. Because they are inside the tyre, they are fantastic in the wet or dry. All the Rollz Motion models use drum brakes.
Alternatively, the byACRE uses brakes that extend a resistance lever onto the tyre. These are lighter.
Do you need Slider Brakes? Slider Brakes, also known as 'Drag Brakes' or 'Slow Down brakes', attach to the rear wheels of your rollator to give you controlled friction to slow the rollator down. Some people want these when they are walking down hill so they are not using their hand brakes as much. Rollz have an accessory for this, called the Rollz Slow Down Brake. Saljol have these attached to their Saljol Carbon Walker already.
One-hand brake option? Some people struggle with weakness in one hand and can only use one for braking. In this case, a ione-hand brake system is a great solution. The Saljol Carbon Walker and the Saljol Aluminium Walker can be changed to a one-hand system.
Hidden brake cables are a great quality in a walker, so they don't get caught on things as you walk past. Most walkers don't hide their cables, but byACRE does put the cables inside their carbon fibre frames, and Rollz run most of them through the handle and then tuck it through a guide so they are out of the way.
DOES THE WALKER ABSORB VIBRATION?
Think about how the jars and bumps travel through your walker up to your wrists? Does your walker absorb impact?
Quality tyres help with this, as does the shape of the frame and the handles.
Does the shape of the frame help? For example, byACRE have incorporated their boomerang shape into their walkers to help absorb shock, plus some cusioning in the wheels and handles. The Overland also has air filled tyres to go the extra distance.
The Rollz Motion has PU tyres which offers a little bit more give, as well as their comfortable but sturdy foam on the handles. The Rollz Motion Performance also has air-filled tyres for the outdoors.
Many other walkers don't add shock protection and have hard handles, so consider if that's necessary for you.


HOW DOES IT LOOK?
This is more about style, which might not be a priority, but it certainly can't hurt. There are some companies who ensure their mobility equipment avoids a harsh and clinical appearance. They are taking on the stigma of mobility aids by not only designing them to be incredibly functional, but also to look awesome.
Locomo's customers often say they get people commenting on their byACRE, Saljol, Trive or Rollz walker, asking where they got it and admiring how cool it looks.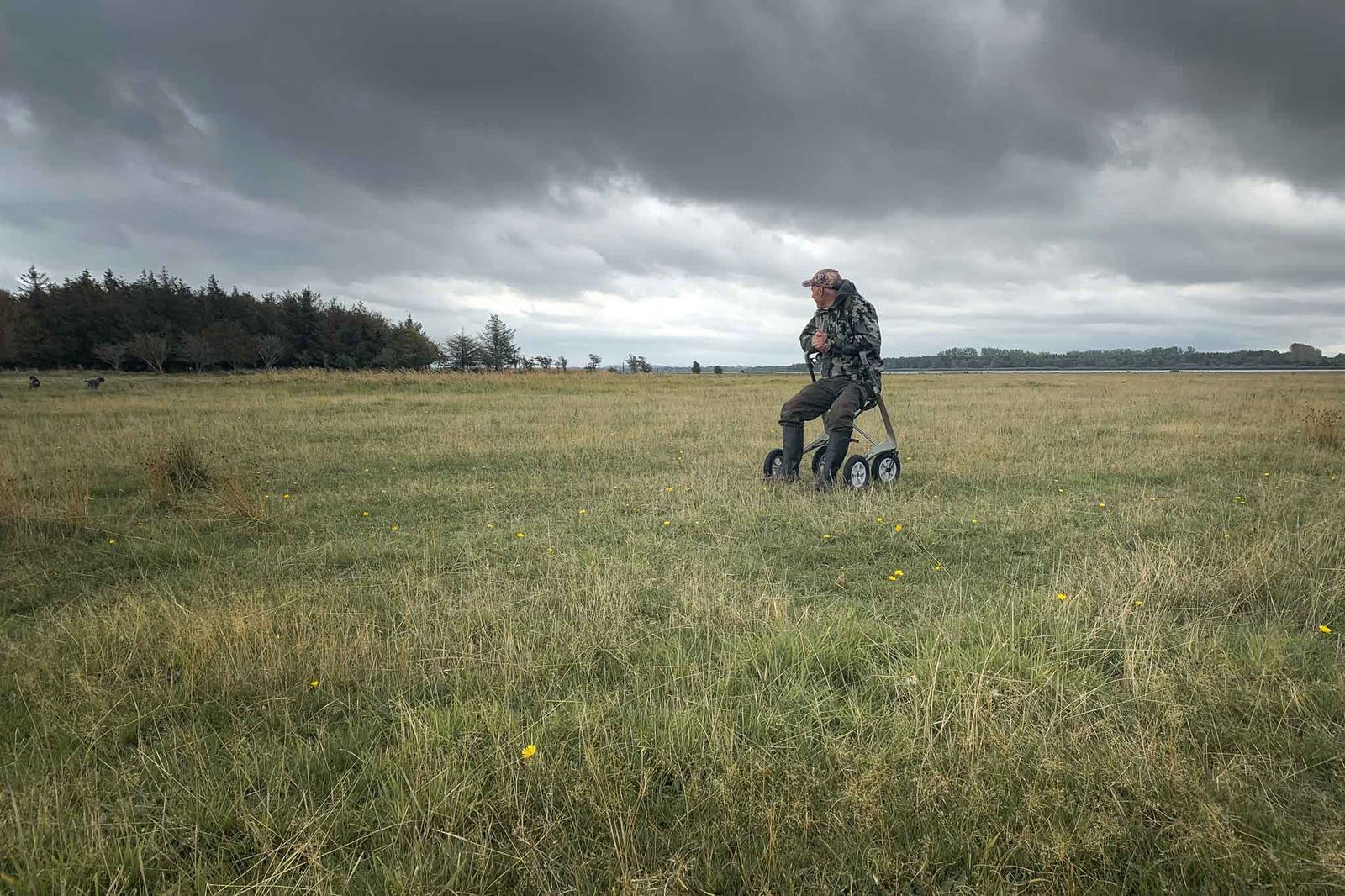 WHAT SORT OF WARRANTY DOES IT HAVE?
Good brands will back their product with good warranties, so you'll want to check that. At Locomo, our brands do just that.
Rollz places a 5 year manufacturers warranty in relation to the extruded aluminum frame and 2 years in relation to the other parts. Full terms of the Rollz warranty can be found on their website here
The byACRE has a lifetime warranty on the carbon fibre frame and a 2 year warranty on other parts (including the seat and wheels). You can register your byACRE for its warranty on their website here.
Saljol offer a four year warranty when you register your product on their website here.
As you would expect, any damage resulting from normal wear and tear, improper use, maintenance neglect, etc. is not covered by the warranty - that is more a matter of repair. It's a good idea to check the product's manual for maintenence recommendations - like anything, if you spend some time m aintaining it, the lifespan will be a lot longer.
Contact us
The above are just some aspects, but we might not have covered questions you want answered. Feel free to get in touch if you have further questions and we would be happy to help.